May 5th, 2014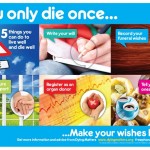 Lodge Brothers & Wickenden and The Mulberry Centre have joined forces to organise an Information Day in conjunction with Dying Awareness Week.
Specialist Information will be available from industry representatives from the sectors of Wills & Probate, Care Homes, Financial and Benefits, Hospices and of course Funeral Directors.
Dying awareness week has been established some 5 years and is designed to help educate people on the subject of Death and Dying and not forgetting living also!
The staff in the West London District will be available for informal chats throughout the Dying Awareness Week which is 12th to 18th May just call in to your local branch and speak to a member of staff.
Otherwise The Mulberry Centre event is on Monday 12th May between 10:30am and 2:30pm, they are located just behind West Middlesex Hospital on Twickenham Road, TW7 6AF and we would very much look forward to seeing you.