October 20th, 2021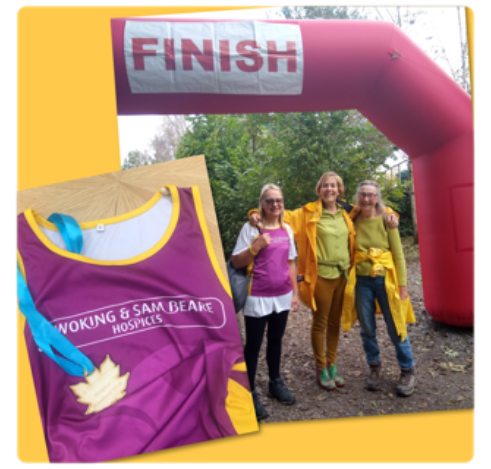 On Sunday, 17th October Woking and Sam Beare Hospice held a Woodland Walk.
Set against the beautiful backdrop of wooded and wetland areas starting from McLaren Park in Woking, across Fairoaks Airport, to Heather farm and onto Horsell Common , it was an enjoyable walk for all ages. Susan, from Woking branch, took part in a 5 mile circular walk, raising funds for the hospice, together with her friends Andrea and Christine. There were stalls, refreshments and volunteers placed at regular intervals providing much appreciated support! At the finish each participant of the 5 and 10mile walks received a wooden medal shaped in the form of a leaf.
Sponsorship donations are continuing to be made "By raising £51 it will enable the Hospice to provide care from a Palliative Care Therapist in a patient's home. By raising £86 it will enable a visit from one of our Community Nurses in a patient's home."
For more information contact fundraising@wsbhospices.co.uk or call Lodge Brothers, Woking on 01483 768 942.