May 11th, 2015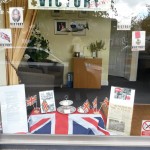 The 70th anniversary of V.E Day has been marked by Lodge Brothers branches throughout the region.
Sandra Keywood, Funeral Arranger at Esher branch, has included in her display some printed excerpts from Winston Churchills speech, a newspaper from VE day, pictures of a street party celebration with a cake stand and tea cup containing information about rationing.
And above them all, a Spitfire hanging in the window.