May 22nd, 2012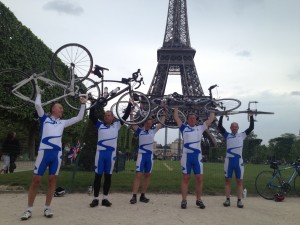 Raising their bikes in the air in celebration our five intrepid heroes pose for pictures in front of the Eiffel Tower after their epic journey from London to Paris.
Four days, 300 miles, a lot of sweat and also a lot of fun. They should be very proud. But then it was all in a good cause as all five were raising funds for a very worthwhile charity.
Robert, Andrew and Chris Lodge, together with their friend Mike Faers and Beveley's husband Bob Harris cycled to Paris to raise money for the British Lung Foundation and specifically for research into Pulmonary Fibrosis. This is a cause close to their hearts as it was from Pulmonary Fibrosis that Robert and Beverley's mother died in May 2010.
They crossed the finishing line at 3.15 pm on Saturday, at the Parc du Champs de Mars. In front of a cheering crowd of friends and family they cycled past looking for all the world as they were just starting their race. Fit, tanned and full of energy. Then came the celebration. A few glass of champagne and several ice cold beers!
Well done, we are all proud of you.