February 26th, 2015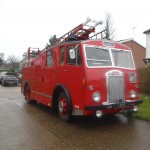 Lodge Brothers in West Byfleet recently conducted the funeral of the late Frank Williams, who was a retired Fire Officer.
The funeral procession was accompanied by two fire engines, one vintage and one modern-day, and the coffin was draped with a flag and topped with a vintage metal fire helmet.
The family commented on how thrilled they were to be able to give him the send off he deserved.