June 1st, 2020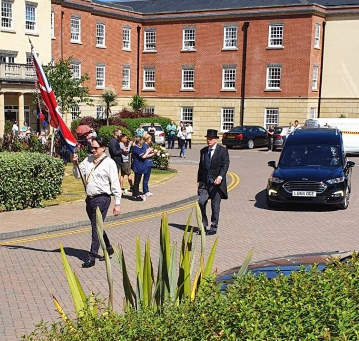 Last Friday, Lodge Brothers Of Burpham conducted the funeral of the late Edgar Maybanks, the highly commended retired Deputy Assistant Commissioner of the Metropolitan Police. He joined the force in 1953 following a period of National Service in the Royal Marines, serving in 45 Commando in Malta, and during his career he played key roles in the Balcombe Street siege in 1975, The Iranian Embassy siege in 1980 and an incident at the Libyan People's Bureau in 1984, where he was overall incident commander. He was also on the security team for Operation Hope Not for Sir Winston Churchill's funeral.
In 1982 he was awarded the Queen's Police Medal (QPM) and in 1993 he was made an Officer of the Most Excellent Order of the British Empire (OBE).
The current circumstances have meant that a full police funeral could not take place, however, a memorial service will take place in Westminster Abbey at some point in the future.
(image shows his hearse being paged from his nursing home with the Union Flag, as he would have wished)