August 27th, 2014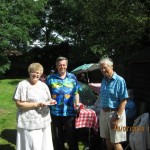 Recently, Lodge Brothers of Feltham, in conjunction with the local history society, helped arrange and coordinate a Summer Event at St Dunstan's Church in Feltham.
Dora Manning, the branch Funeral Arranger said,  'It's been really interesting arranging this event. It encompassed the church and the local history society, each providing fantastic local information.'
Sue Collins the Parish Administrator at St. Dunstan's said, 'We'd like to say thank you very much to Dora, Quentin and all at Lodge Brothers, for providing the support for this event to take place. Without their help this could not have taken place and the strawberry tea they provided will be remembered for some time to come!'
Photo from left to right shows Sue Collins Parish Administrator, Quentin Edgington District Manager and Brian Edgington.