May 21st, 2014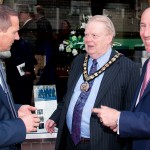 On Thursday 15th May, Lodge Brothers held the Official Opening Ceremony of their new branch in Cobham.
A short Service of Dedication was held in the Chapel, performed by local ministers Reverend Robert Jenkins of St Andrews Church Cobham and Father Anthony Cadwallader of the Josephite Community Church Weybridge. Afterwards, a commemorative plaque was unveiled by His Worshipful the Mayor of Elmbridge Councillor Mike Bennison.
As it was such a glorious day, guests were then able to enjoy a canapé buffet and drinks both inside and outside the branch.
Robert Lodge explained, "A funeral is the last act you can carry out on behalf of a loved one, and we understand the importance of providing the highest level of care, compassion and professionalism at our clients time of need. Our family has been serving local communities for 230 years, and Cobham is particularly close to the heart of the Lodge family, as most of us grew up in close proximity.
We were very pleased to see so many familiar faces at the ceremony, and look forward to our continued work in the community".