November 21st, 2014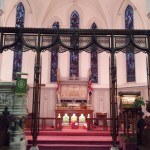 A special Sunday service was held at St Stephens Church in Windsor at 10am on Sunday 9th November, commemorating all those who fought in the World Wars and other conflicts. The service was conducted by Father John Quick.
This year Jill Palmer, branch arranger from Lodge Brothers Windsor, was asked to write and lead the prayers of intercession at this service.
Jill explained: "It was a great privilege to be asked to do this. In the prayers, the congregation were asked to remember that in the evil of war there are still great signs of human goodness to be seen, and were asked to focus on the remarkable acts of courage, kindness and love, shown by all those who fought and are still fighting, in order to bring peace."
After the communion the congregation went outside to the Calvary for 11am and honoured a three minute silence in memory of all those who have given their lives for peace.
A poppy wreath was placed at the foot of the Calvary by the memorial plaque which was donated by Lodge Brothers to mark this occasion.