December 19th, 2014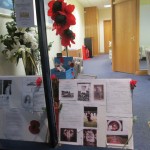 Carol and Pat our Branch Funeral Arrangers at Molesey Branch, created a personal window display for Remembrance Day last month.
Pat's uncle, Private A Knight of the 7th Bn, London Regiment died "in the field" on the battlegrounds of France, aged just 19 on 25 July 1918 leaving his distraught parents, Alexander and Elizabeth.  He is buried in a War Grave in Contay British Cemetery in France.
Carol's Great-Grandfather-in-Law, Joseph Disspain, died when HMS Cressy, an armoured cruiser, sank just off Yarmouth on 22 September 1914.  He was aged just 25  and left his wife, Florence, who was pregnant with their first child.  Florence later gave birth to Joseph Cressy Disspain, named after his father and the ship that he was on.
The window display has attracted a lot of attention, one lady commenting, "It makes it all the more poignant, when it's personal".