November 10th, 2015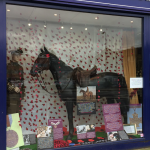 Lodge Brothers of West Byfleet have been remembering the armed forces this Remembrance Day – not only the men but also the animals as demonstrated by the window display pictured.
Branch Arranger Annie Mackender said; "Whilst we honour our fallen in all wars, and it is right and proper that we should, it is often overlooked how many animals of all shapes and sizes lost their lives in the service of their country. They had no choice and were taken to war torn places with no sense of why they were there, often man and beast giving each other comfort and support. But so many succumbed to the horrors of war and I just for once wanted an opportunity to remember the sacrifices they made."
It is a little known fact that during WW1 a million dogs and eight million horses/mules and donkeys died on both sides.
The window shows a full size horse, a dressed manikin in the uniform of the Dragoon Guards and references to the conflicts involving animals and the PDSA Dicken Medal. Many local residents have expressed praise for the window display and one lady even dropped a personal thank you card as the display reminded her of an Uncle who looked after horses during WW1.