March 11th, 2016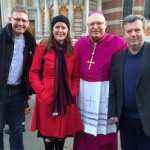 Quentin Edgington, District Manager for Lodge Brothers, welcomed the new Roman Catholic Area Bishop to his region recently.
He explained, 'It was a great privilege to attend the special service at Westminster Cathedral and to meet the new Area Bishop for Ashford and Sunbury. '
Photo shows from left to right Father Philip Dyer-Perry the Area Dean, Louise Walton, Bishop John Wilson and District Manager Quentin Edgington.