May 10th, 2013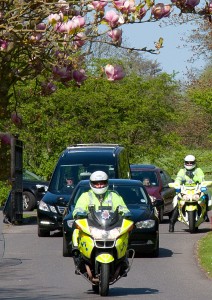 On Friday 3rd May, Lodge Brothers in Walton-on-Thames conducted the funeral of retired police officer Michael McGeehan, only 4 short months after conducting the funeral of his wife, Ann.
Motorbike enthusiast Mr McGeehan, who had served in the Metropolitan Police for 30years, got a true-blue send off, with full Police motorcycle escort accompanying the hearse, and traffic stopped along the route on his final journey to Randalls Park Crematorium.
He's leaves a son Gerald, who is also a police officer, and two daughters Alison & Christine.