April 30th, 2012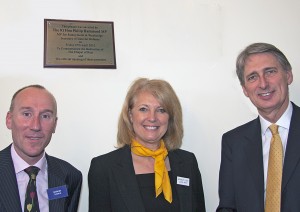 The RT Hon Phillip Hammond, MP for Runnymead and Weybridge and Secretary of State for Defence was guest of honour on the 27th of April, at the official opening of the new branch of Lodge Brothers, Funeral Directors, in Englefield Green.
The occasion also saw the dedication of the Chapel of Rest led by the Reverend Mark Ewbank of St Jude's United Church, Englefield Green, with a reading by Reverend Tim Hillier, Minister for St Peters, Chertsey and the rural Dean and a closing prayer and blessing by Father David Maskell of the Catholic Parish of Egham.
Beverley Lodge, a Director of Lodge Brothers, opened the proceedings by welcoming everyone and especially Mr Phillip Hammond to the new style premises which would now enable Lodge Brothers to serve the community of Englefield Green.
After the Dedication, Mr Robert Lodge Chairman of Lodge Brothers, said he believed the new style premises would further enhance the company's reputation and create a warm and comforting setting for bereaved families.
"Our business" said Robert Lodge, "was started in 1780, over 230 years ago. Today Lodge Brothers is run by the seventh generation of our family. We are very proud that we now have 38 branches and yet we are still a family company, dedicated to up-holding traditional family values".
Mr Hammond was then invited to unveil the plaque to mark the official opening of the branch. 'I had no idea that Lodge Brothers had as many as 38 branches' he said ' and I think it highly admirable that this successful company should still be family owned and family run."