September 23rd, 2015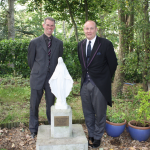 Lodge Brothers West Byfleet were thanked by staff and pupils of St Hugh of Lincoln Primary School in St Johns Woking for restoring their statue of "Our Lady" to its former glory.
This opportunity came about when staff were making enquiries with local companies on how to clean a white marble statue in the school garden. When they called into to see Annie MacKender, the funeral Arranger at Lodge Brothers West Byfleet, she knew exactly what to do – she engaged the help of the Lodge Brothers Memorial Masons.
The statue was removed from the school and the stonemasons completed the cleaning treatment, and as a gesture of goodwill the work was carried out for free.
Annie then contacted the school and arranged for the statue of 'Our Lady' to be reinstated, during which time it was safely pinned and fixed onto her plinth. Now she is back in the prayer garden where she belongs.
Head teacher Mr Michael George was thrilled to have the statue back and thanked Lodge Brothers staff for all their help.
The photo shows Paul Bye Surrey Commercial and Operations Manager for Lodge Brothers and Head Teacher Mr Michael George with 'Our Lady'