November 21st, 2014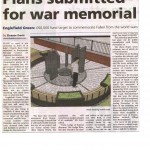 Plans to erect a new war memorial in front of St Jude's Church have been submitted to Runnymede Borough Council for planning permission.
Chris Lodge, Director of Lodge Brothers, has donated his time and advice to support the project, along with several other local businesses.
John Scott, chairman of the Englefield Green Memorial Committee, who recently met with Directict Manager Richard Leachman and Englefield Green's branch arranger Susan Areington, explained:
"We have a cross of Sacrifice, erected in 1929 at the front of the cemetery, but there are no  n ames recording the men that died. We hope to construct a memorial that will carry the names of every man."
Runnymede Borough Council have assured £10,000 towards the cost of the project, but the target is £60,000.
For more information on the project or to make a donation contact englefieldgreenvillage@hotmail.com or call 01784 432448