March 15th, 2019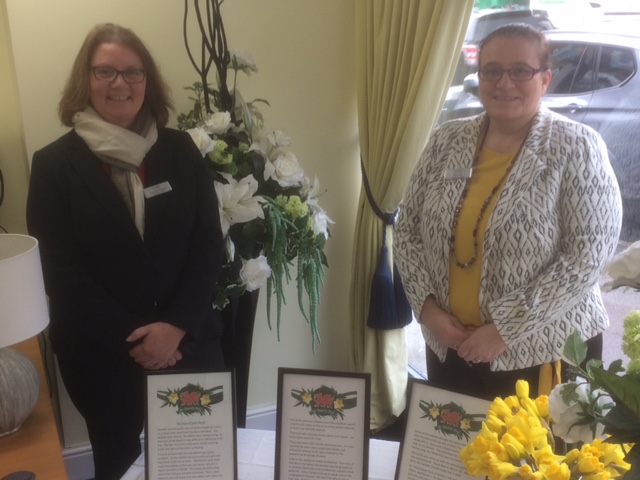 After successfully completing their training, two new ladies have become the arrangers for our branch at Ascot. Samantha Faulkner (left) and Diane Joel are both local ladies and are very excited about sharing the role of arranger at Lodge Brothers. They have new ideas and a fresh approach to raising the profile of the family-run business in the High Street. The previous arranger, Tom Hoyles has taken up a new position in the Company.
District Manager, Richard Leachman said: "I want to thank Tom for the work he has done in Ascot over the last year, and am delighted that he will be remaining in my area fulfilling an important role. That said, to have not one, but two ladies in situ, who both live within ten minutes of the branch, will be positive for upping the profile of the Company. They will be working on a week on/week off basis, so if you are passing, do pop in and say hello to them".
Seen here on St David's Day (hence the daffodils) Sam and Diane are already organising a competition with a local school and hoping to forge links with charities in the Berkshire area. Richard commented: "We do not just want to be there for the sad occasions. We have funds to be able to reach out into our community and aim to make a difference".