March 16th, 2015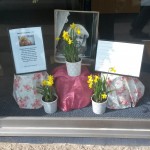 Lodge Brothers staff remembered those Mothers no longer with us by displaying flowers and a beautiful poem in the branch windows, inviting all to come in and share their special memories.
District Manager Bill Wilde said "It is a special time of year to celebrate our Mothers, and at Lodge Brothers we wanted to be able to offer the local community the chance to remember those who are no longer with us. Mums may have passed away but it doesn't mean that we ever forget them.
Many passers by have come into the branches to say how much they have enjoyed the displays and the efforts of the staff".