March 10th, 2016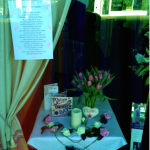 The funeral arrangers at Molesey branch received many comments on their pink-themed Mother's Day display at the weekend.
One client brought in a card and was very grateful for having it included in the display in remembrance of her mum.
The poem "My Mother Kept a Garden" was displayed in the window which has some lovely thoughts about the caring and nurturing nature of mothers.