June 11th, 2014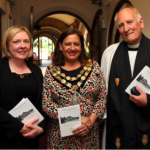 Chris Lodge and Paul Bye joined mayors, ministers and other funeral directors for a service to celebrate 75 years of Mortlake Crematorium on 3rd June 2014.
The crematorium, which opened in 1939, has seen 180,000 cremations take place, including that of Margaret Thatcher, who died in April last year.
Other well-known figures to have been cremated at Mortlake Crematorium include comedian Tommy Cooper, actor Michael Redgrave and political journalist Robin Day.
Superintendent and registrar Natasha Bradshaw said: "We had a 13-year-old that did a solo and stole the show and one of our organists wrote an amazing poem."
At the same time the crematorium donated £4,411 to Sobs, a charity that helps people affected by suicide.
Staff at the crematorium, honoured the anniversary with a celebratory mass read by Canon Julian Reindorp followed by refreshments in the gardens.
Pictured is Natasha Bradshaw, Lady Mayor Counsellor Meena Bond and Canon Julian Reindorp.