October 11th, 2012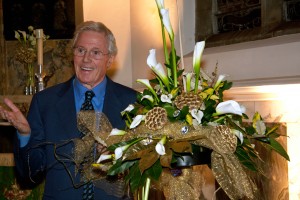 St Mary Oatlands Church in Weybridge is celebrating its 150th anniversary, and last weekend's Flower Festival, organized by Reverend Steve Brunn and his wife Sharon as part of the celebrations, was a resounding success.
Local celebrity resident Michael Aspel opened the event at the Preview Evening on Friday, and the displays were on view to the public all weekend.
Beverley Lodge attended alongside District Manager Bill Wilde and his wife Caroline.
The Lodge Brothers floral display, based on the theme of "The Resurrection", was designed and created by Sharon Brunn, who also acts as a relief Funeral Arranger for Lodge Brothers.