November 24th, 2014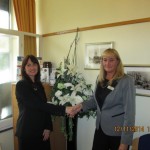 Mia Taylor our Branch Arranger at Sunbury, has recently trained six people and is very pleased that another member of staff has successfully completed her training under her supervision.
Cindy Bentley started her training with Valerie Perkins at Lodge Brothers of Brentford and completed her training with Mia.
Mia explained, 'I very much enjoy training new people and wish Cindy all the best in her role as Funeral Arranger at Ealing branch'
Photo shows Cindy Bentley (left) and Mia Taylor (right).