June 2nd, 2014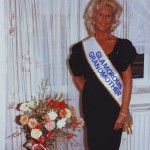 Pat Moller has worked for Lodge Brothers since April 2006, when the company took over Edmonds & Sons, with whom she had worked since 2001. She is one of two experienced Funeral Arrangers looking after the branch in East Molesey, where she has lived for most of her life.
Pat is well known and respected in the local community, and explains,
"I love my work here, and I do feel that my knowledge of the community and its people means that I can really help our clients through a very sad time."
A devoted family woman, when Pat isn't working, she loves spending time with her husband, daughter and grandchildren.
Over the years, her participation in the Butlins Glamorous Grandmother of Great Britian Competitions has earned her many accolades. She attained 2nd place in 1981, and then out of a possible 10,000 contenders and a short list of 30, she made it to the final and then won first place in the March 1991 on her 60th birthday.
More recently, her amazing knitting talents were spotted by the mother of the Personal Assistant of famous British designer Cath Kidstone, at Pat's regular stall at the local Methodist Church Fair. She approached Pat and asked if she would be willing to create some knitting designs for Cath Kidstone as part of the celebrations to mark the 20th anniversary of the brand.
Pat's design creations included the knitted banner lettering for their retreat "Coming Up Roses" at Chelsea Flower Show last year, a plate of full English Breakfast, fish chips & mushy peas, a black cab, an alarm clock tea cosy, a racing pigeon and soldiers on parade. These hand-made designs were then taken and translated into patterns for mass production to be sold internationally through the many Cath Kidstone retail outlets.
Pat says, "I'm very flattered that my designs have been snapped up in this way. It's lovely when you get recognition and reward for doing something that you really enjoy."