October 3rd, 2023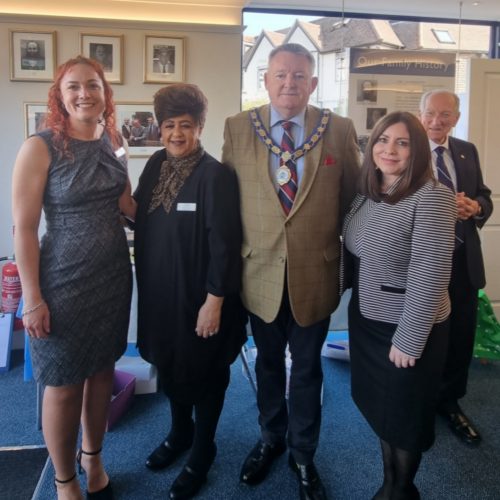 Lodge Brothers Datchet branch took a meaningful step to support families affected by cancer, who turn to Macmillan for solace and assistance every year.
Hayley Griffiths, the newly appointed Funeral Arranger at Lodge Brothers Datchet, along with Cressida Lodge, representing the 8th generation of the Lodge family, orchestrated a heartwarming coffee morning event last week. Their aim was to not only raise vital funds but also to foster unity within the community. The event reached out to local care homes in Datchet and its surrounding areas, inviting them to participate in a colourful and creative competition.
Residents from Eton House, The Manor, Sandown Park, Queen's Court, and Optalis enthusiastically joined the competition, submitting their artistic creations. These masterpieces now adorn the windows of the Datchet branch, proudly displayed for the entire community to appreciate.
The event received the gracious support of the local Mayor, who lent their expertise as the competition judge and also presided over the raffle. In addition to the Mayor, local councillors and the Archdeacon, Rev Canon Binns from St. Mary's Church, graced the occasion with their presence, underlining the significance of this community-driven initiative.
The coffee morning also highlighted the spirit of local businesses and residents rallying together in support. Nibbles coffee shop and several generous locals contributed delicious cakes and treats, ensuring a delightful spread for everyone in attendance. These collaborative efforts culminated in raising a commendable £300 for Macmillan.
This heartwarming event not only contributed to a noble cause but also brought the local community and care home residents closer together. It offered a morning of joy, camaraderie, and delectable treats, strengthening the bonds that make Datchet a tight-knit and caring community.
Lodge Brothers Funeral Directors' commitment to serving not only in times of grief but also in fostering unity and support in the community reflects their deep-rooted values and dedication to the well-being of the people they serve. The presence of Mr John Lodge (6th Generation) and Chris Lodge, representing the 7th generation, and now serving as a Director of the company, joined the event symbolising the rich heritage and ongoing dedication of the Lodge family to the funeral industry and their deep involvement in uplifting the local community.
The success of this event serves as a testament to the power of collective compassion and community engagement.