May 17th, 2012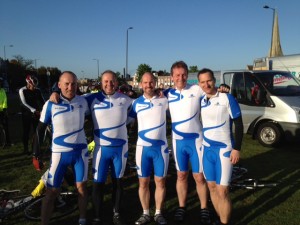 It makes a change from the formal attire they wear to work but here looking fetching in matching blue and white Lycra are Robert Lodge, Andrew Lodge and Chris Lodge together with friends Mike Faers and Bob Harris, husband of Beverley Lodge at the start of their epic cycle ride from London to Paris.
ALL IN A GOOD CAUSE
They are all smiling now but 234 miles is a long way on a bike and there's going to be some pain ahead! But then it's all in a good course as all five are fund raising for a very worthwhile charity.
Robert, Andrew, Chris, Mike and Bob are all cycling to Paris for the British Lung Foundation and specifically for research into Pulmonary Fibrosis. This is a cause close to their hearts as it was from Pulmonary Fibrosis that Robert's mother died in May 2010 after suffering for eighteen months
GOOD LUCK TO THEM ALL
It all starts from Blackheath in London early on the 18th of May. We wish them all the very best of luck.