November 27th, 2020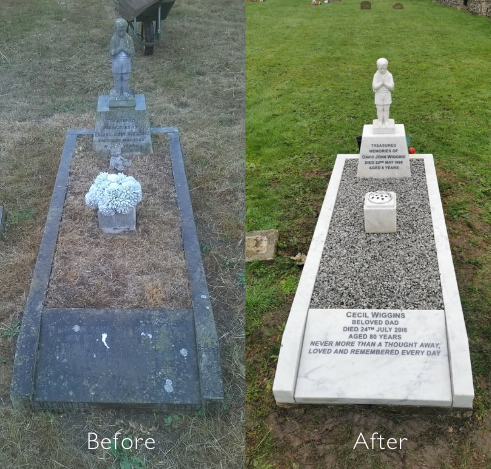 Memorials are erected as a form of remembrance and to celebrate a loved one's life. Over time families may not be able to visit as frequently as possible to maintain the memorial in prime condition, or, when a further interment takes place, a family will contact us with regard to cleaning or adding an inscription. Lodge Memorials offer a free of charge, no obligation quotation service whereby one of our experienced stonemasons will inspect the memorial, take a detailed report with photos and provide the necessary information and costs on the best way to proceed.
This white marble memorial (pictured left) had slowly weathered as it stood in the graveyard over time. Our masons carefully removed the statue, die and foot tablet back to the workshop in order to re-carve and lead fill the letters. The statue was carefully cleaned by hand and the remaining components of the memorial were cleaned on site. When it was re-fixed the existing centre was removed with a new concrete chipping bed and grey granite chippings installed in order to offer a reduced maintenance option. Going forward the marble can be kept clean with regular washing using water and a soft brush to remove dirt and prevent a build up of organic growth, however, a Lodge Brothers Memorial Maintenance contract could be taken out whereby the memorial is cleaned by our masons twice a year (March and September).
When our skilled masons clean memorials they use either abrasive machines and hand tools to re-surface the stone or a DOFF machine to provide a softer, chemical free and environmentally friendly cleaning solution. The DOFF machine uses a low pressure hot steam clean to kill organic spores and growth and remove dirt.
For further information on renovation, additional inscriptions or maintenance contracts, please contact us at memorials@lodgebrothers.co.uk or call 01784 252227