May 21st, 2014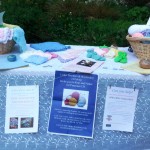 Kim McLaughlin of Lodge Brothers and Wickenden in Ealing enjoyed supporting Preemies UK at the Ealing 135 Spring Fair on Saturday 17th May. The fair was held at Christ the Saviour Church, Ealing Broadway, where local families were treated to some great family fun including a bouncy castle.
Kim gave knitting lessons and offered people some wool and patterns to encourage them to knit clothes for premature babies for Preemies UK.
Lodge Brothers and Wickenden sponsored the stall and the wool was given away for free.
We are still looking for volunteers so feel free to get in touch if you wish to help.