December 15th, 2015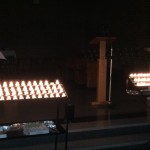 Lodge Brothers & Wickenden's Annual Memorial Service was held this year at Kingsdown Methodist Church Ealing on Sunday 6th Dec.
Adrian Moore District Manager and funeral arrangers Val Perkins, Maureen Lee and Marian Murray all attended.
Over 120 people came to remember their loved ones, led by Reverend Rachel Bending whilst singing popular carols and lighting a candle of remembrance.
Soloist Francesca Gash led the carols whilst entertaining us with some favourite solo pieces of music during the hour long service.