May 6th, 2014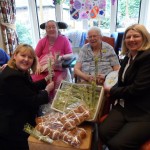 Staff from Lodge Brothers Walton & Weybridge joined forces this year to ensure that the local nursing homes did not get forgotten during the Easter period. With bunches of daffodils and freshly baked hot cross buns, Jane Day, Jackie Packman and Ann McMurray brought smiles to the faces of the residents as they delivered the goodies around the District.
Lorraine Roberts, the Manager from Clare House in Walton, and Debbie Riley, the Manager from Sutton Lodge in Weybridge fully co-operated and were grateful to Lodge Brothers for this gesture of goodwill to their homes.
Jane Day, Relief Arranger explained, "Last year, we brought Easter Eggs and Hot Cross Buns to the homes for the first time, and we received such a good reception from the residents, we wanted to do it again this year. Ann, Jackie and I really enjoyed meeting with the residents and giving them small gifts of flowers and buns".