March 18th, 2014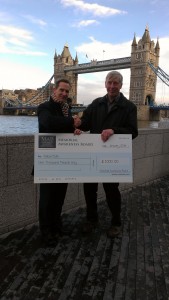 Earlier this month Fulham resident Robin Bath won the £1000 prize for a national photo competition designed to capture the beauty of stone memorials.
The Memorial Awareness Board (MAB) runs the annual competition that challenges the public to take two photos, one representing the 'then' and one representing the 'now'. It's an opportunity to showcase memorials 'unsung beauty'.
The competition was a huge success and with such a high standard of entries, choosing the ten shortlisted proved a challenging task! The final ten were then published on the website and put to a public vote.
Winner, Robin Bath from Fulham, was delighted with the £1000 prize. Robin said, "Thank you so much to MAB for the great opportunity. I am a keen photographer and found the subject matter of stone memorials most fascinating. Visiting cemeteries is a beautiful and peaceful pastime. Organisation's like MAB are vitally important." Robin also received a gold award certificate signed by the MAB Chairman.
Competition sponsor Chris Lodge, (Managing Director of Lodge Brothers) presented Robin with the cheque by the Thames at Tower Bridge.
The Memorial Awareness Board is a non-profit organisation, representing memorial stonemasons and campaigning for sympathetic memorialisation in the UK. Its brand new website, www.rememberforever.org.uk, aims to inform the public and the press alike about their options regarding memorialisation. Whether a loved one is buried or cremated they deserve to be remembered forever and a stone memorial is the best way to accomplish this. The website gives details of all types of stone memorial available from UK memorial masons.
Each year, the 'Dead Art? Then and Now' photography competition attracts entries from across the country. The purpose of the competition is to encourage the public to venture to their local cemeteries to discover the beauty of stone memorials, while helping them to understand the importance of stone memorials as a focus for grief in the short term, and a genealogy tool in the long term. The competition is sponsored by Funeral Directors Lodge Brothers. This year MAB received over 250 entries to the competition; a number that it hopes will increase each year.
Christopher Lodge, Director of Masonry at Lodge Brothers (Funerals) Ltd says, "As a family business established over 230 years ago, we are really pleased to sponsor this unique photographic competition. Memorials play a part in our social history on both personal and public levels. They are a lasting tribute to our loved ones and those who have lost their lives for our country. We sincerely hope that this competition shows the changes within our industry and society through the theme "Then and Now" and raises the awareness and importance of commemorating in stone."