August 2nd, 2014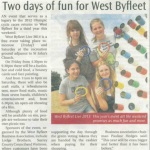 Lodge Brothers of West Byfleet were sponsors of this year's 'West Byfleet Live', which took place last weekend.
The event started in 2012 when the Olympic bike ride passed through West Byfleet, and has been held each year since.
Lodge Brothers were thrilled to sponsor the showing of the evening film, which this year was "Dirty Dancing".