January 7th, 2016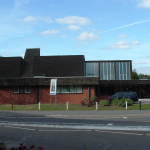 Lodge Brothers of Woking were proud to support their local Church 'The Coign', directly opposite the branch in Goldsworth Road, recently with their annual Christmas Community event held on Friday, 18th December 2015. Around 60 people attended "The Way In".
One of the volunteers, Ann explains: "The guests invited were homeless, unemployed or single parents, they enjoyed a beautiful Christmas lunch and joined in with carol singing and even Santa came with presents. Then we had the free raffle. Everyone got a prize!"
David Maskell of the Coign Church commented "On behalf of the Coign Church, I would like to thank you, Susan and your Manager, Paul Bye for Lodge Brothers' generous gifts for the Way In Christmas meal last Friday. This year we served 58 Christmas lunches. The guests enjoyed carol singing, a visit from Father Christmas with presents and a free raffle at the end. Your gifts of toiletries, chocolates and biscuits were used in the free raffle, and were gratefully received by our guests."
If you or someone you know qualifies in the areas given above, then you are welcome to the Coign Church for lunch any Friday between 12.30 and 1.30 pm, and volunteers will see how they can help you.