September 11th, 2012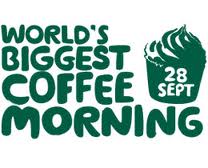 On Friday 28th September from 10am, the Esher, Walton and Windsor branches of Lodge Brothers, the local, family run Funeral Directors, are taking part in the World's Biggest Coffee Morning and they would be delighted if you could join them in support of this worthy cause.
There will be a raffle with all proceeds going to Macmillan, an opportunity to buy a delicious homemade cake plus the opportunity to look around our premises and enjoy an informal chat with a member of staff.
We look forward to seeing you.