June 17th, 2014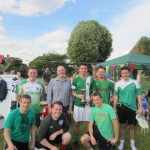 St Michael's School in Ashford held their annual 'Dad's Football Tournament' last Saturday and this year the teams had something to battle for – a magnificent trophy and winners and runners-up medals which were provided by Lodge Brothers, the local family-run funeral directors.
Eight teams battled for over four hours on a warm afternoon, before a team made up of school teachers defeated one of the dad's teams in the final, despite vociferous support from their wives and children on the touchline!
School Headmaster, Mr John Lane called the event "a huge success" as Richard Leachman, Manager of Lodge Brothers in Ashford handed out the medals and Trophy to the finalists.
Mr Leachman commented, "It was a great day and I am pleased we were able to be involved in such a tangible way. At Lodge Brothers, we do whatever we can to support our local community, and those at St Michael's who put the event together should be commended".