June 1st, 2015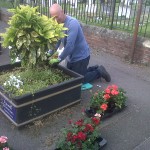 Just in time for summer and the 800th Anniversary of the Magna Carta, the flower beds in Englefield Green are being readied.
Derek from 'Phil Franklin Landscapes Ltd' works hard to make it happen, as the flower containers are a striking feature at the entrance to the Green and have prompted many passers-by to stop and appreciate them.
Lodge Brothers pride themselves on being part of the local community and sponsoring these flower pots.