November 4th, 2020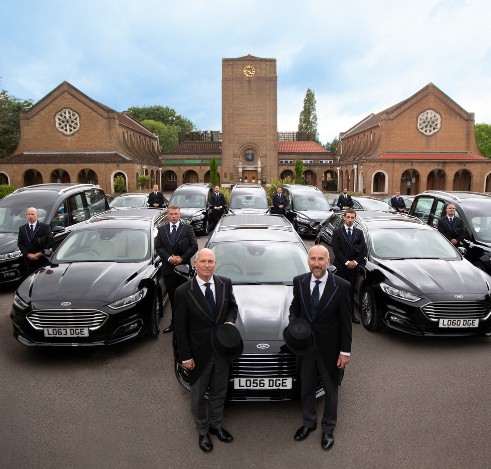 Forward thinking Lodge Brothers' recent investment in 16 low emission Coleman Milne hybrid hearses and limousines will deliver a proactive contribution to improving the air quality in Greater London, Surrey and Berkshire. It has been long known that London and the surrounding areas have dangerous levels of air pollution with 40% of toxic gasses emanating from diesel vehicles.
"We looked at how we worked and where we could make changes to help the environment. Our fleet was an obvious place to start and we trust that our clients will fully support the decision we've made." said Robert Lodge, Chairman.
The hybrid technology couples a specifically designed, powerful 2-litre petrol engine with an advanced electric motor, which is partially powered by an extra-light lithium-ion battery. The hybrid model paves the way for the best of both worlds: on longer journeys, the efficient petrol engine produces excellent economy; for shorter journeys, the electric engine comes into its own with regenerative breaking, saving and recharging up to 90% of the energy which is usually lost on conventional vehicles.
After a successful trial, Lodge Brothers made the decision to upgrade their existing diesel fleet to low emission hybrid vehicles. The fleet of 16 vehicles comprises 6 elegantly styled Hybrid Norwood Classic hearses, complete with a glass roof for full visibility, and 9 Hybrid Rosedale limousines, all delivering an especially quiet drive. Each vehicle has been finished with a host of unique touches including bespoke LED light units, wreath rails, sumptuous leather upholstery and 3 bearer decks, all personalised with Lodge Brothers own insignia.
"We are delighted with how the vehicles look, their practicality and best of all, we know that we have significantly reduced our carbon footprint. Rather than just talking about it, we've actually invested in a programme to make us more sustainable for the future" said Andrew Lodge, Director.
The family owned and managed business has been operating for 240 years and has spanned seven generations. From their 42 branches, Lodge Brothers excel in providing a service which is second to none, with the focus on caring for bereaved families, whilst also making sure their requests and those of their loved ones are met with the utmost compassion and professionalism. From funeral planning and legal services to floral tributes and memorial masonry, Lodge Brothers and their highly experienced staff will guide their clients through the process to deliver on the family's wishes.
For further information and press enquiries please contact Robert Lodge, Chairman at
Lodge Brothers on 020 8818 7710 robert@lodgebrothers.co.uk