May 16th, 2014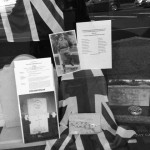 As part of Dying Awareness Week, Paul Bye, District Manager of Lodge Brothers and Wickenden Brentford, sponsored an information day at The Mulberry Centre, offering advice on Pre Paying or Pre Arranging a funeral.
Accompanied by Rob Marshall, a Wills specialist from PWS Ealing, the pair were kept busy all through the day with local residents who were invited to call in to obtain free advice.
Lodge Brothers sponsored the event and offered everyone who visited tea, coffee and cakes. The event was also attended by other representatives from the care home industry, local government agencies and other Hospices such Meadow House and Princess Alice.
Dying Awareness week is now into its fifth year and is a growing coalition with the aim of changing public knowledge, attitudes and behaviour towards death, dying and bereavement.
Further information can be obtained by contacting the Brentford branch.