July 17th, 2012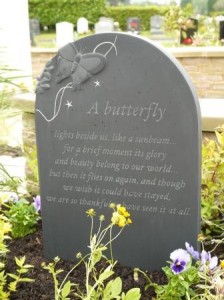 Lodge Brothers Memorial Masons in Ashford are honoured to have donated a memorial headstone to the national self-help charity 'Sands', which now sits in their Butterfly Memorial Garden at Epsom Cemetery.
The headstone was hand carved by the expert craftsmen at Lodge Brothers, using age-old traditional methods. The butterfly carving was by Ben Hall, and the lettering of a touching poem was hand-rendered by Mark Jones.
The garden, which cost £30,000 to build, was funded entirely by donations raised by the charity. The design centres around a paved butterfly, with a rose arch leading to a small grave space for the burial of babies, and an area for the scattering of ashes. Flowers and grass plantings provide a beautiful and tranquil setting for parents to visit.
Chris Lodge, Director of Lodge Brothers, said, "When Sands approached us with regard to the memorial garden, I was only too pleased to design the headstone with my team, allowing Ben and Mark the time and opportunity to demonstrate their skills. As a company, we were pleased to donate the headstone and be part of this project. I sincerely hope that the garden is somewhere for everyone to be able to reflect and find peace and tranquillity."
'Sands' was established to support anyone affected by the death of a baby during pregnancy, at birth, or in the first few weeks of life. The impact of losing a baby can be underestimated by anyone who has not endured the experience. The charity is run by volunteers, who are also bereaved parents themselves.
Lodge Brothers is a long standing member of the National Association of Memorial Masons (NAMM), which looks after the interests of those bereaving family or friends by promoting high standards of safety and workmanship of natural stone memorials.