December 24th, 2014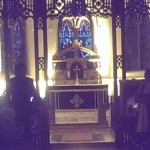 Lodge Brothers hosted a Christmas Service of Remembrance in St Mary Oatlands Church, Weybridge for clients past & present across the region to remember their loved ones at this special time of year.
Just under two hundred people from the local community attended and lit candles in the service which was led by Reverend Steve Brunn.
It was a very moving service with carols led by the church choir and music from guest musicians. There were readings by Beverley Lodge (Director) and Bill Wilde (District Manager) and words of hope and comfort to the multi faith congregation completed the act of remembrance, as the candles were lit and laid by families to remember their loved ones.
Everybody was treated to mulled wine and mince pies courtesy of Lodge Brothers after the service and many positive comments were received by the staff in attendance.