December 17th, 2014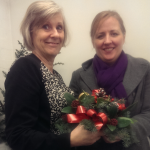 Sharon Brunn and Ann McMurray, both Branch Arrangers with Lodge Brothers, got together this year to make Christmas Holly Wreaths for the festive season to raise money for a good cause.
Ann, our Walton Branch Arranger explained, "It is a special time of year for families, therefore Sharon and I decided that we would offer the wreaths in exchange for donations to 'Home Start', a charity that offers support and friendship for families in need."
Both Ann and Sharon are mums themselves, and know how special this time of year is to families. Sharon said, "Home Start is a charity I have supported in the past and therefore I enjoyed making the wreaths knowing that we are supporting a good cause."
The wreaths will be available from Lodge Brothers Walton branch from 15th to the 19th December during normal opening times, and are subject to availability.
Please come early to avoid disappointment.