March 28th, 2015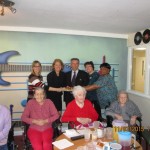 Lodge Brothers of Hounslow provided Hot Cross Buns to the residents and staff at Cloisters Nursing Home as part of their Easter Celebrations.
The Home Manager, Karen Stiles said 'I would like to thank Quentin Edgington and Jackie Crew for arranging this – the residents and staff loved it'.
Photo shows from left to right Karen Stiles Home Manager, Beverley Lodge, Quentin Edgington, Alexandra Henderson Activities Coordinator, Joy Jones Member of Staff and residents.