April 20th, 2015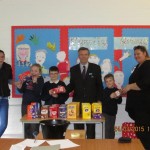 As part of their ongoing community projects in the area, Lodge Brothers of Hanworth supported St.Richard's School recently by supplying East Egg Prizes for the children's school competitions.
The Chair of Governors Hayleigh Cowell said 'A big thank you to Susan and Quentin at Lodge Brothers for arranging the Easter event. Needless to say, the children loved the Easter Eggs!'
District Manager Quentin Edgington, said 'It is a great privilege to be able to work together with schools in the local Community'.
Photo from left to right shows Katie Williams Vice Chair of St.Richard's PTA, Quentin Edgington District Manager of Lodge Brothers, children from the school and the Chair of the PTA Hayleigh Cowell.