March 21st, 2015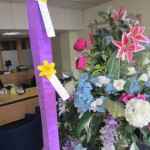 Ashford branch of Lodge Brothers endeavoured to raise funds for 'Marie Curie Cancer Care' over the recent Mother's Day weekend.
By asking people to buy a daffodil badge – the symbol of MCCC – and placing it in the window with their loved one's name, Sandra Nuttall and Sue Pursey took donations for the charity.
It was a very simple but effective way of remembering those mums who had died. The ribbons and badges will remain in the window throughout the month of March, which meant the Irish tricolour can also be seen, commemorating St Patrick's Day.