May 13th, 2020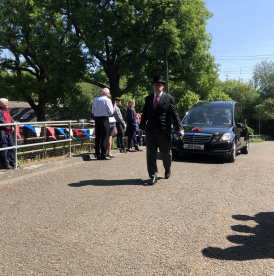 Lodge Brothers and Boutell had the privilege of arranging the funeral of a prominent member of our local community. A very popular member of the Byfleet Boat Club, it seemed fitting for his family, friends and club members to line the route of the funeral procession to pay their final respects, and bid him a final "Goodbye".
They stood two meters apart, all dressed in red, white and blue, with buntings and Union Flags fluttering in the breeze, as the hearse slowly made its way over the canal bridge, where two young policemen, in ceremonial uniform, stood and stopped the traffic to allow the funeral cortege to slowly pass.
They stood with smiles and tears and applauded their dear friend, grandfather, father and dear husband. Even his beloved narrow boats sent out a signal to say "we'll miss you" by sounding their horns as a final salute. The sun shone and the skies were blue in a corner of the land that will be forever England.
In these unpresented times, even when restrictions seem to limit so many aspects of our lives, together with you, the Team at Lodge Brothers will always work to find a way to celebrate and commemorate a loved one's life.