March 27th, 2015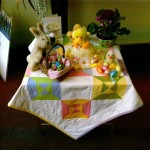 Carol and Pat, our brach staff at East Molesey, have created a small display to celebrate Easter and are inviting all passers-by to pop in and have a cuppa and enjoy eating some chocolate eggs.
Carol said, "We love being part of the community here, and Pat and I just wanted to do something to remember the Easter period".
Any donations received, will be passed on to the Princess Alice Hospice to support the good work that they do on behalf of our clients.