September 30th, 2015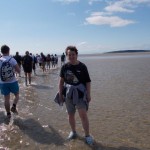 On Sunday 6th September 2015, around 300 people met at Arnside to walk across Morecombe Bay in memory of Dean Thompson who died in 2008 of bone cancer aged 19 years. In the 7 years since Dean's death, his family have raised £70,000 for the teenage cancer trust at Christies in Manchester.
The walk is across the sands between Arnside and Kent's Bank and is led by Cedric Robinson MBE, the Queen's Official Guide. In 1963 Cedric was appointed the 25th guide and for 52 years has escorted many thousands of charity fundraisers safely across the dangerous sands of the bay.
When I last did the walk in 2013 the weather was appalling, this year it was glorious and as a result we were able to take a slightly longer route that was nearer 10 miles. Despite the good weather, there was still a lot of water to walk through, not as deep as previous years but still very hard going in places. Due to the difficulty of the walk there is a tractor that accompanied us to take people who were struggling. I am glad to say that no-one needed to use this and a high number of children completed the walk. The first part of the walk for the first mile is very rocky and slippery and the last mile or so is very boggy so there were a few falls and trips along the way.
The atmosphere was very positive; we all had a good laugh which Dean would have appreciated.
For me it was an opportunity to catch-up with friends that I do not see too often. My companion, Clare was great fun and had me laughing for the whole way and kept me going through the dodgy bits!
I have to say that my trainers look like they should be condemned and smelt so bad they had to be left outside! On the plus side we all caught a bit of the sun (in Morecombe!)