December 17th, 2020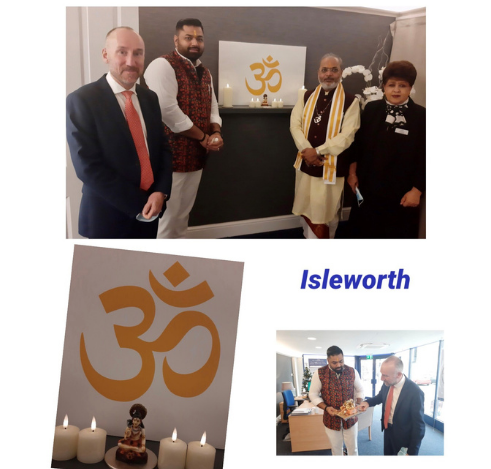 Earlier this week, our Chairman Robert Lodge and Funeral Arranger Shobha were joined by Mr. Sagar Shukla, where he performed a special Hindu blessing at out Chapel of Rest.
At the ceremony, an Om symbol and statues of Shiva & Ganesh were presented in our Chapel for display. The Om symbol is displayed in a home or office to influence your thoughts, to help bring you good luck, wealth and peace. The Hindu God Shiva, along with Brahma and Vishnu make up the Hindu triumvirate, three gods who are responsible for the creation, upkeep and destruction of the world; together making up the cycle of the universe.
Finally, the Hindu God Ganesh is the god of beginnings, he is readily identified by his elephant head. He is widely revered, more specifically, as the remover of obstacles; the patron of arts and sciences; and the deva of intellect and wisdom. His statue is presented whenever you "move in" to a new house, with a prayer and blessing given with the Ganesh statue to free you of any obstacles to your success.
Pictured Left: Robert Lodge, Funeral Arranger Shobha and Mr. Sagar Shukla