June 7th, 2021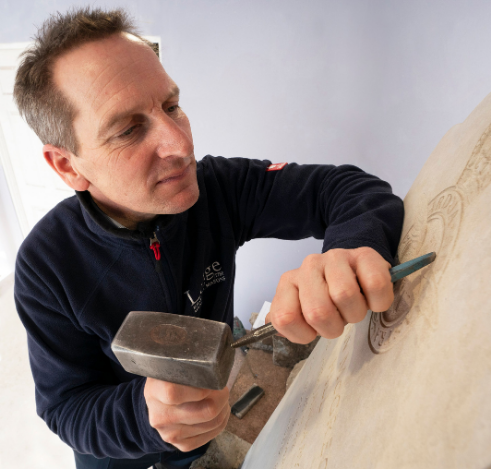 As part of Love Your Burial ground Week, we interviewed Chris Lodge, Memorials Director for Lodge Brothers.
Q: How long have you been working in the Lodge Brothers Memorials Department? 
A. I have been a part of the team at the Memorials Department since I was 16, helping out the family during school and university holidays. It's now 26 years since I took over running the department.
When I started, we were only a small team of 2 fixer masons and a part-time secretary; over the years, I slowly developed the masonry side of the business into an office team of 5, with 5 skilled masons in the workshop. We have invested in new machinery such as a laser guided saw, hydraulic polisher and sandblasting equipment that together gives us great control over the quality of our memorials
Q: What sort of materials are commonly used to create memorials?
A. There has recently been a substantial move in the materials we've used to create our memorials. Previously up until the mid 1990's 90% were made using white marble whereas today 95% now are produced from granite. Most memorials are created using granites sourced all over the world, however, we always like to work with Portland Stone and Purbeck Stone, both quarried in Dorset.
Q: What is the process of creating a memorial?
A. We still believe it is really important to sit down with a client and talk through all the many options available. There is a wide choice of stones available, many different shapes and sizes which have to fit the various cemetery or churchyard regulations. We now do most of our 3D drawings on a computer whereas when I started I did them all by hand. We advise on the different types of ornamentation such as hand etching, sandblasting, carving; all of which help personalise the memorial. We also advise clients on the best lettering types and finishes to complement the stone they select and then produce a to scale layout of the inscription and ornament to ensure the client has the final approval of the overall look.
Q: Are burials still a popular option for arranging funerals?
A. In our part of South-West London and the Home Counties burials probably only account for approximately 15 – 20% of all funerals. I believe it is about 30% nationwide. When, however, a client chooses a burial they do so for a number of reasons and want to commemorate a loved one's life and have a place to go in order to reflect and remember. A memorial is therefore a good way to express that person's personality or interests.
If you would like to find out more about Lodge Brothers Memorial Masonry, please visit www.lodgememorials.co.uk or call us on 01784 252 227.