November 11th, 2015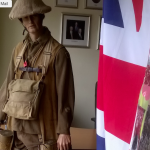 Susan and Lodge Brothers are very grateful to Neville and Janette Lazenby for the generous contribution of their time and the articles on loan displayed in the Woking branch window.
Mr Lazenby wanted to create the display to thank Lodge Brothers Funeral Directors of Goldsworth Road, for the way they looked after his son Steven after he died of a brain tumour in January 2012. Neville and his wife Janette have remained in contact with Lodge Brothers since Paul Thurtle arranged their son's funeral.
Also remembered in the display is Sergeant Ralph Lazenby (Neville's father) who was an original member of the SAS in 1941 and Woking resident Walter 'Charlie' Brown OBE, who died in 2010.
Featured in the 'Lodge Brothers' window are:
1. Biscuit tin – from James Fortt's factory
2. Trench Art & shell cases – To wile away the hours of boredom and in addition as part of the recuperation process, soldiers were encouraged to do certain craftwork.
3. Chocolate tin – Every soldier received one as standard issue at Christmas in 1915
4. An adapted football rattle – This was used to warn comrades of an impending gas attack.
5. Tobacco & Cigarette tins – These were standard issue.
6. S.R.D – Thought to stand for 'Service Rations Depot' however soldiers said they stood for 'Soon Runs Dry'. Introduced in the winter of 1914, the rum ration was initially given to soldiers to combat the chill and damp of the trenches. A rum jar held 1 gallon – enough for 64 men. In the front line, rum was issued twice a day – at dawn and at dusk.
7. Wire Pickets – for barbed wire retrieved from the Battle of the Somme. (2 British, 1 German).