July 18th, 2015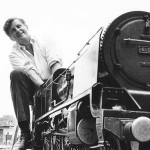 Ian Allan, who has died the day before his 93rd birthday, triggered the post-war explosion of trainspotting as a British pastime by publishing the first booklet of engine numbers in 1942 and starting a club which had 230,000 members by the time steam gave way to diesel.
He diversified the business to embrace magazines, bookshops, a travel agency, a Masonic publisher, a printing business, organic garden supplies, commercial property and car dealerships.
At 15 Ian lost a leg following a camping accident during exercises with the OTC, and this seemed to limit his career opportunities. Already a railway enthusiast (and regular visitor to the signal box at Christ's Hospital station), he left school when war broke out to join the Southern's staff at Waterloo. He helped to produce the company's magazine and handle enquiries from the public – and increasingly from enthusiasts.
Allan was 20, and a 15s-a-week clerk with the Southern Railway, when he published the ABC of Southern Railway Locomotives in response to calls from enthusiasts for information. Management declined to publish it, but allowed Allan to do so at his own risk.
The first 2,000 copies of the shilling booklet sold out in days. Further ABCs on the Great Western, LNER and LMS railways, and London buses, trams and trolleybuses, went like hot cakes, friends and neighbours helping to distribute them.
It had not occurred to Allan that "bagging" the locomotives he listed would take off as a hobby. But within weeks, knots of schoolboys armed with his booklet appeared at the end of station platforms, and in 1943 he and his colleague (and future wife) Mollie Franklin launched the Ian Allan Loco-spotters' Club.
For more details and a full obituary please visit http://www.telegraph.co.uk/news/obituaries/11708536/Ian-Allan-trainspotter-obituary.html
Lodge Brothers of Shepperton conducted the funeral service on Friday 17th July which will be followed by a private burial next week in Sussex.